---
About Puri
Puri is a popular tourist resort on India's eastern coast. Many visitors come to Puri to view the Jagannath Temple (a Hindu temple devoted to the god Jagannath). The temple is an important pilgrimage place for Hindus.
Puri is proudly included in the list of the Four Dhams of Hinduism, according to which any pilgrimage tour won't be complete without a visit to the Puri Temple.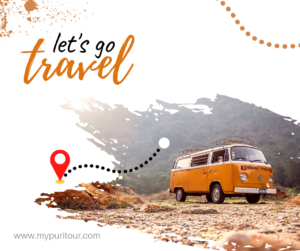 The city's beach is fantastic for swimming, sunbathing, and surfing. Puri beach is a perfect place to take a break from the hustle and bustle of city life and enjoy the natural beauty of the sea. Know all about the puri tour.
Things to remember
If you are planning a trip to Puri from delhi, there are a few things you should keep in mind. First, you should book your train or flight tickets in advance. Train tickets can be booked online or at the station. Second, you should pack light. One of the best things about Puri is how hot and humid it is. You won't need to pack much clothing, because the weather is so warm and muggy. And Third, you should bring cash.
How to reach Puri
BY AIR: The nearest airport is Bhubaneswar, which is 60 km away.
By Rail: Reaching Puri through direct express and super fast train links with New Delhi, Mumbai, Kolkata, Okha, Ahmedabad, Tirupati, etc. Some important trains are the Kolkata (Howrah) Puri Howrah Express, Jagannath Express, and New Delhi's Purushottam Express.
Khurda Road Station, 44 km from Puri, is a convenient rail head for trains to Chennai and Western India. The station is about 1 km north of the town.
BY ROAD: Reaching Puri through the Road: – The bus stand near the Gundicha Temple provides connections to Bhubaneswar service every 10–15 minutes.
The best time to visit Puri
If you are interested in experiencing Indian culture and religion, the Rath Yatra festival is the perfect time to visit Puri. You will be able to see firsthand this festival's importance to Hindus and enjoy the beautiful city of Puri.
The weather in Puri is highly influenced by the sea, as it lies on the banks of the Bay of Bengal. The tropical climate of Orissa, with its pleasant winters, hot and humid summers, and heavy rainfalls, all make it the best time to visit Puri.
The white sands of Puri Beach attract lots of tourists to Puri from every corner of India.
Top 5 Attractions Near Puri
1. Sri Jagannath Puri Temple
2. Puri Golden Beach
3. Sudarshan Crafts Museum
4. Pipili for Handicrafts
5. Raghurajpur Artist Village
There are lots of temples in Puri that you can visit, like Alarnath Temple, Lokanath Temple, Gundicha Temple, and Vimala Temple.
Accommodation near Puri
There are many accommodation options available near Puri. You can choose from hotels, resorts, guest houses, and more. No matter your budget, you will find something that suits your needs. These hotels offer convenient access to Puri's temples, beaches, and other attractions. If you are seeking a more relaxed and quiet atmosphere, consider staying in a guest house or resort outside Puri. No matter your budget or preferences, you will find the perfect accommodation near Puri.
Also Read: Here is What's Good About puri tour plan for 4 days
Places Outside Puri
Konark Sun Temple
The Konark Sun Temple is a 13th-century Hindu temple dedicated to the Sun God Surya. It is located in the town of Konark, in the state of Odisha, India.
The temple is made out of black granite and is adorned with intricate carvings and sculptures. This is a UNESCO World Heritage Site.
It is worth a visit. Konark Sun Temple is not only the best tourist place but is also an original and impressive architectural achievement. It is a stunning architectural feat. Konark Sun Temple is a remarkable and stunning instance of Indian medieval architecture and is definitely worth a trip.
Satapada Dolphin Site
Satapada is a small town located in the Orissa State of India. It is situated on a peninsula in Chilika Lake and is known for its abundant wildlife.
You can visit Satapada on a day trip from Puri, and you will be able to see many different kinds of birds and animals. The highlight of this trip is the Satapada River, where you can see dolphins swimming and playing in the water.
You will get to experience the vibrant culture and stunning scenery and also get to see some fantastic wildlife in its natural habitat. You will get to see rare Irrawady dolphins.
Wonder World Water Park and Resort
Wonder World Water Park is the perfect way to relax and chill out with your family and friends. It is the biggest water park in Odisha, located at Malatipatapur, Puri. As the name suggests, it is a world full of wonders on each and every slide and ride. The park has several waterslides, camp night, banquet hall, resort, & many more.
Ramachandi Beach
Ramachandi Beach is a great place to relax and enjoy the ocean views and is one of Puri's most popular beaches. You can take a walk and enjoy the scenery.
It is located at a distance of 65 km from Bhubaneswar and 7 km from Konark sun temple.
People mostly visit it to witness the mesmerizing sunrise and sunsets from here.
Also Read: Make a hassle-free travel experience with Mypuritour